Kitchen Exhaust Cleaning – Staten Island, NY
There is absolutely no difference between kitchen exhaust cleaning in Staten Island than in any other part of New York City. Since Done Right Hood and Fire Safety has clients all throughout New York City and New Jersey, we thought it only appropriate to make sure Staten Island restaurants and commercial kitchens were full aware of our services.

We're pretty well known in the other boroughs, especially Brooklyn and Manhattan, but Staten Island kitchen owners may not know the benefits of a company like Done Right.
Kitchen Hood Cleaning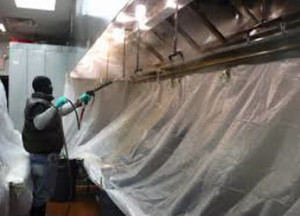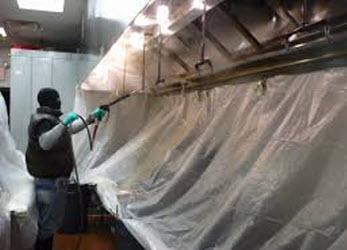 Our exhaust leaning services are absolutely second to none. Unlike many of our competitors, we don't just clean by hand. That's part of the job for certain, but we also bring in high pressure hot water power washers as well. These are commercial grade steam cleaners that get deeper into your vents and hoods than just hand washing, which does not get all the grease and grime produced by your kitchen.
Our crews are experienced and professional and leave your kitchen like new. We'll clean out the grease traps and empty all grease containers. You'll also get free waste oil pickups. Rather than disposing your grease into the environment, we take it to be recycled. In fact, we recycle as much as we can.
Violations Removed
We know compliance and safety is your number one concern. That's why Done Right bears a certificate of fitness from the New York City Fire Department. We're certified to remove your violations and keep your kitchen in full compliance with the city, state and FDNY. We'll even make sure the paperwork is filed correctly.
Hood Fabrication
In addition to providing full kitchen exhaust cleaning, we also fabricate hoods. If you need a new hood or replacement hood to match your existing kitchen system, we'll custom fabricate a unit to your exact specifications. All units are designed to NFPA 96 standards.
Fire Suppression Systems
Done right Hood and Fire Safety will oversee the sale and installation of your fire suppression system. We've work with William Hird & Company in other parts of New York City and will use their fire protection and safety services to serve you in Staten Island as well. Again, your restaurant or cafeteria kitchen will remain in full compliance with the FDNY. Your staff and patrons will work in a clean and safe environment and are protected in case there is a kitchen fire.
Other Services
Done Right Hood and Fire Safety is a full service kitchen exhaust company. In addition to cleaning, fabrication and fire suppression systems, we install hinge kits and access panels. We install grease containment systems, clean out and/or replace all fans and ducts, including ceiling vents. Finally, be sure to ask us about our filter exchange program.
Done right Hood and Fire Safety is the only kitchen exhaust company you will need for your Staten island commercial kitchen. Call us today at (212) 660-3232 or go to our contact page to receive a quote. We're waiting to hear from you.